It is an honour and a privilege to acknowledge the hard work and accomplishments of our personnel (panel members) and teams within our organisation. We believe in creating an emotional connection with our personnel and our organisation, all while supporting the work our staff does and remaining true to our values.
MHR extends sincere appreciation to all personnel for exemplifying our values 'Patient Safety Focused, Client Centred, Trusting and Respectful, Team Orientated and Performance Driven'. Please join us in congratulating the following individuals on their service excellence. These remarkable contributions allow MHR to go from strength to strength, signifying a 'Trusted Source for Talent'. 
Click on the applicable date tab below to view the recognitions for the specific month. 
PN Japie Festus
PN Japie Festus is a well-respected panel member at Mediclinic George, offering round-the-clock nursing care. Patients regularly admire his love for his work. He is always courteous towards patients and uplifting to the team, helping patients to focus on getting well.
EN Theodora Mooi
Pharmacy Services Executive Douglas Defty commended EN Theodora Mooi for the exceptional care she offered to him while being admitted to the Critical Care Unit. EN Mooi showed interest in his progress, communicated well and went out of her way to care for him.
PN Dineo Sharon Kalake
PN Dineo Sharon Kalake has a special place in the hearts of the Obstetric Unit team for the care she offers to the mothers and babies.
ENA Yaya Msibi
Bravo to ENA Yaya Msibi for always going the extra mile and for her keenness to work a shift, even on short notice.
CW Onicca Molatudi
CW Onicca Molatudi is always delighted to offer friendly care at Mediclinic Kloof and is often praised for her remarkable service.
EN Salva Khoza
Mediclinic Sandton remarked that it is a pleasure to work with EN Salva Khoza. Parents and patients love her attentive care.
PN Sindi Hadebe
Along with PN Sindi Hadebe's optimistic attitude, she is an outstanding nurse and patients at the Mediclinic Heart Hospital frequently compliment her for her welcoming service.
CW Dimpho Maggie Nakene
CW Dimpho Maggie Nakene received a special thank-you note from a Mediclinic Midstream patient's daughter. CW Nakene took excellent care of her father and proved that dedication and devoted patient care contribute to a speedy recovery.
ENA Memory Mathebula
A heartfelt thank you to ENA Memory Mathebula for her devotedness to offer quality care even under challenging circumstances.
Marika Coetzee
MHR applauses Marika Coetzee for the remarkable service she offers as an MHR Career Centre Agent. She always sees problems through to resolution, and her caring and upbeat personality shine through in her work.
CW Michelle Pimentel
An Obstetric Unit mother wishes to express her gratitude to CW Michelle Pimentel for taking special care of her baby. CW Pimentel's diligence and positive attitude to her work contribute to an exceptional patient journey.
CW Onica Motlhalerwa and ENA Winnie Chauke
CW Onica Motlhalerwa and ENA Winnie Chauke are always keen to arrive, even for bookings made at the eleventh hour. They are happy to work wherever they are placed.
ENA Lethiwe Precious Malinga
Newly registered ENA Lethiwe Precious Malinga makes her mark at Mediclinic Medforum with friendly assistance
PN Shaolin Mashego
Well done to PN Shaolin Mashego for delivering outstanding care to the patients in Unit E at Mediclinic Nelspruit.
EN Linky Sibanda
A big bravo to EN Linky Sibanda. She was contacted one evening at 18:55 for a shift. Transport at night in Tzaneen is a big problem. However, EN Sibanda managed to get to work and contribute to positive patient journeys.
ENA Mafa Netshivhulana
ENA Mafa Netshivhulana was chosen as the 'High Five Star' for the month of April 2018 at Mediclinic Cape Gate (Unit G). All the staff members voted for him for this internal recognition award. The staff enjoys his enthusiasm, and his work is always up to date.
EN Gloria Williams and EN Lucky Manqele
Mediclinic Stellenbosch thanks EN Gloria Williams and EN Lucky Manqele for their clinical skills and high-quality work in all patient disciplines. They live the five company values in everything they do.
PN Ingrid Ngomane
The Unit Manager of the Neuro-orthopaedic Unit at Mediclinic Nelspruit wishes to extend her gratitude to PN Ingrid Ngomane for always being willing to go the extra mile, offering a helping hand in the unit. PN Ngomane's dependable, calm and mature qualities make her a great asset to the unit.
EN Hlengiwe Bridget Mashele
A patient praised EN Hlengiwe Bridget Mashele for offering outstanding care and a wonderful patient experience at Mediclinic Morningside.
PN Priscilla Veronica Philisiwe Khumalo
The Patient Safety Manager at Mediclinic Sandton compliments PN Priscilla Veronica Philisiwe Khumalo for being very attentive in identifying a sacral bedsore and following excellent reporting protocol.
CW Zama Sithole
CW Zama Sithole proved to be very supportive, calm and collected under challenging circumstances in the Unit (Unit Manager of the Paediatric Unit at Mediclinic Sandton).
PN Nombulelo Patricia Qabaka
A patient admitted to Mediclinic Morningside sent the following note of thanks: 'After being rushed to the hospital for an emergency caesarean, I feared having a traumatic post-birth experience. I am thankful to confess that I experienced the complete opposite and I am grateful to your staff and in particular PN Nombulelo Patricia Qabaka.'
PN Virgie Louw and PN Palesa Mohale
Mediclinic Sandton's Nursing Manager gives positive feedback regarding MHR panel members placed in the Neonatal Unit during the December festive season. The unit was very busy with up to 50 babies. We would like to acknowledge PN Virgie Louw and PN Palesa Mohale for their exceptional contribution to the team.
PN Holtzhausen receives a Gold Medal Award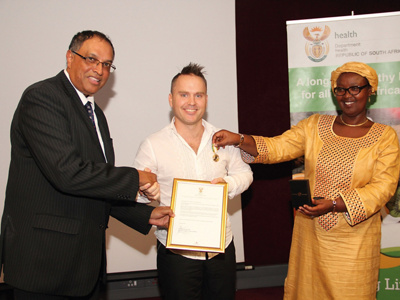 From left to right: Dr Barry Kistnasamy (Compensation Commissioner for Occupational Diseases at the National Department of Health of South Africa), PN Rudolf Lourens Holtzhausen (MHR Panel member: Western Cape Region) and Dr Marie-Goretti Harakeye Ndayisaba (Head of the Division of AIDS, TB, Malaria and Other Infectious Diseases (OIDs) in the Social Affairs Department of the African Union Commission)
Dr Aaron Motsoaledi congratulates PN Holtzhausen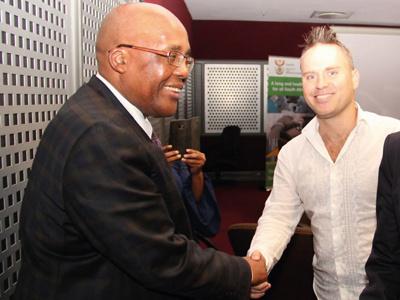 From left to right: Dr Aaron Motsoaledi (Minister of Health) and PN Rudolf Lourens Holtzhausen (MHR Panel member: Western Cape Region)
PN Mariska Isaks
PN Mariska Isaks is always keen to arrive, even for bookings made at the eleventh hour. She is happy to work wherever you place her and excited about self-development.
Suritha Fredericks
Admirable attention to detail, high standards and an exceptional work ethic make Suritha Fredericks, an MHR Career Centre Agent and Receptionist temp, stand out. Appreciated by all clients and respected by co-workers, her warm personality makes it an enriching experience to work alongside her. Suritha surpassed all expectations and is now permanently appointed as MHR Western Cape's Receptionist.
EN Wendy Kgonwana
As a newly registered MHR panel member, EN Wendy Kgonwana eagerly takes on additional tasks to learn and grow, enthusiastically promoting MHR.
EN Khomotjo Bhembe
EN Khomotjo Bhembe is always delighted to offer friendly patient care at Mediclinic Heart Hospital at any time of the day.
PN Rachel Bapela
An MHR colleague who was also admitted as a patient at Mediclinic Brits wishes to express sincere gratitude to PN Rachel Bapela for her remarkable service. PN Bapela exceeded all expectations, helped our colleague to stay calm, and focused on getting well.
PN Phillip Mamabolo
A big bravo to PN Phillip Mamabolo for making the best of circumstances. His shift was cancelled one day upon arrival, and he had to return for a different shift on the same day. He came on duty with a smile and gave the best patient experience.
ENA Tendani Netshikulwe
Several clients and patients praise ENA Tendani Netshikulwe's passion for offering quality care to patients.
CW Teshnay Windvogel
CW Teshnay Windvogel provided great assistance with bookings and placements at Mediclinic Louis Leipoldt.
PN Patrick Moshime
The Patient Experience Manager at Mediclinic Legae commented that patients often admire PN Patrick Moshime's love for his work and that he represents MHR with great zeal.
EN Crescent Kotlolo
On several occasions, the Critical Care Unit Manager at Mediclinic Midstream shared acknowledgements received from patients and family members about EN Crescent Kotlolo's outstanding patient care.
CW Vinolia Mashego
Very committed to her work, CW Vinolia Mashego is always available to offer welcoming care to her patients.
EN Philma Mabaso
EN Philma Mabaso's keenness to go the extra mile is evident in her ability to go out of her way to arrive on duty, even under difficult circumstances. MHR appreciates her loyalty.
ENA Zanele Tshetu
A family treasured the care ENA Zanele Tshetu gave to their elderly mother at Mediclinic Vergelegen.
PN Oyebisi Adelola
PN Oyebisi Adelola is very hardworking and devoted to MHR. A bravo for always being willing to work a shift  - even on short notice.
ENA Germinah Sealetsa
ENA Germinah Sealetsa offered such outstanding service during her first shift in the Paediatric Unit that the hospital requested MHR to book more shifts for her in the unit.
CW Mpho Ika
CW Mpho Ika is often recognised for brilliant patient care and takes on additional tasks with great passion.